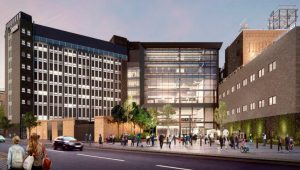 BBC Northern Ireland receives Council greenlight for HQ plans.
In July 2019 the BBC submitted a planning application for the redevelopment of Broadcasting House in Belfast to Belfast City Council. Earlier this month it received a greenlight from the council for the proposed changes.
The B1 listed building, which opened in 1941, was revamped in the 1970s and again in the 1980s but in the intervening years, and developments in media production, it is no longer fit for purpose.
Read about the history of BBC Broadcasting House, Belfast.
The transformation of Broadcasting House is expected to cost £77m and will include both improvements to office and production space, but also show-stopping features to integrate the building into its surrounding area.
The new plans include an extension to the rear of the current building which will house informal meeting spaces, a reception area, office space, and access to Linenhall Street.
A new plaza has been proposed to integrate the building into the public area of Linenhall Street. This plaza will incorporate not only a public realm but lighting and stage facilities, along with a new energy centre and service yard. The whole site is approximately 1.1 acres.
The site which is situated in the 'Commercial District Character Area' and within the Linenhall Conservation Area will became a centralised hub for BBC Northern Ireland which currently operates out of three separate locations.
This amalgamation allows for potential environmental, logistical and cost savings for the Corporation, as Broadcasting House was becoming increasingly expensive to maintain.
Belfast City council has confirmed the planning permission, listed building consent and consent for demolition in a conservation area by their planning service.
BBC Northern Ireland said in a statement:
'This allows us to continue with our plans for the project. We will announce a detailed timetable of next steps after we appoint a main contractor.'
Belfast City Council has recently said that the number of major decisions taken by its planning committee this year was twice that of last year. The council said that the applications related to more than 1,100 homes, student accommodation, restaurants, hotel and a number of other projects.
Join the Community and receive NI business news straight to your inbox with our Community Newsletter.
Sources: BelfastTelegraph.co.uk, BBC.co.uk, UKIConstructionMedia.co.uk
15:34 14/02/2020