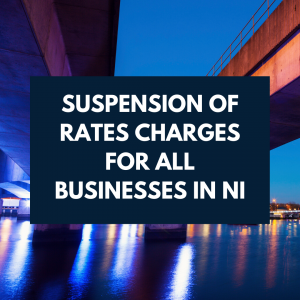 Latest news for NI businesses in the wake of the Corona pandemic.
Conor Murphy, Finance Minister for Northern Ireland answered questions for the BBC last night on the ongoing plans to support businesses in NI throughout the pandemic. He was clear that all procedures being put in place are 'an initial response' and that the NI Executive will be augmenting plans in the coming days and weeks as announcements come from the Prime Minister and the Treasury Department of the UK.
The top line of these initial plans is the suspension of rates charges for all businesses in NI for the coming three months. When questioned as to why this was not 12 months in line with the wider UK the Minister said that while the UK's plans lasted longer, they did not apply to 'all businesses' as the NI plans do.
He also said that this is 'all moving very fast' with multiple announcements coming throughout the day and that 'we expect further announcements' which will further fuel their plans to aid the Northern Ireland economy through this crisis
'Our job is to get these packages [announced by the Treasury Department] and get them as quickly as possible onto the ground to support the people most in need of them.'
When asked if he thought the government was acting quickly enough, he had said the UK government were 'catching up' but that the 'package I have announced today is immediate.'
The initial response ensures Businesses in Northern Ireland can now bank whatever rates they were paying over the next three months, but that they will need time to create specific packages aimed at the families and communities most in need.
'This is not only a health crisis; it is an economic crisis as a consequence of that.' Finance Minister
Grants of up to £25k for some businesses are in the pipeline but the mechanics of how and when these can be applied for is still uncertain. The Department of Finance are expecting to react to several more announcements from the Prime Minister and Treasury in the coming days.
When commenting on the minister's interview Economics and Business Editor for BBC Newsline, John Campbell said 'There is still work to be done.'
BelfastforLife and Abacus Careers have moved our recruitment and information services online. Our office is closed but we are open for business.
14:56 18/03/2020