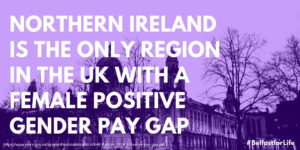 What is the gender pay gap?
The UK Government defines the gender pay gap as:
'… the difference between the average earnings of men and women, expressed relative to men's earnings. For example, 'women earn 15% less than men per hour'
This is not the same as equal pay. Firms are required by law to pay men and women doing the same job the same salary.
Rather, it is a means by which the difference between the median hourly wage for females and males in Northern Ireland can be measured to see overall progress to address the issue of a difference in those incomes.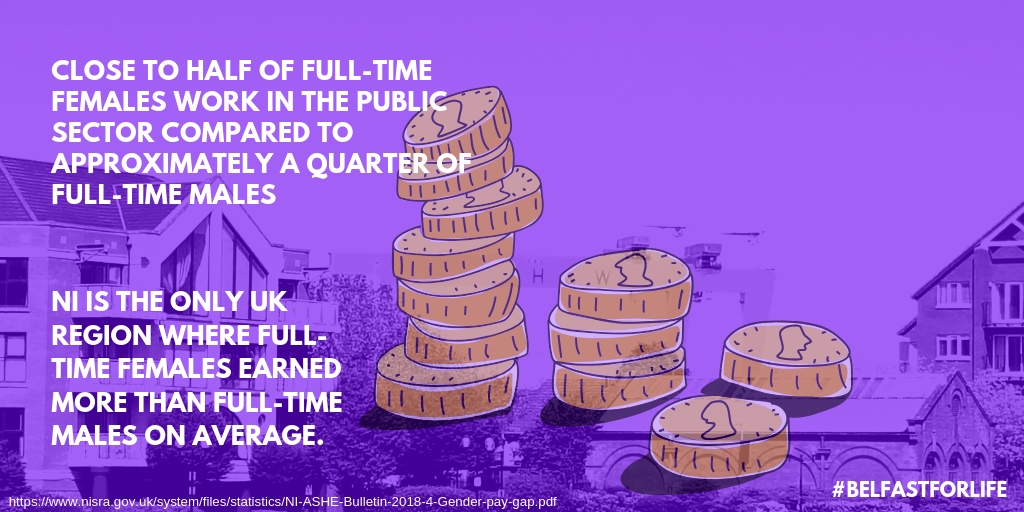 Why is everyone talking about the Gender Pay Gap?
Legislation was passed in 2017 that means every business in the UK (excluding Northern Ireland) must submit information on the pay equality within their organisation.
The Equality and Human Rights Commission (EHRC) who enforce this legislation will receive this information to form a report.
Private companies and charities must submit their information by the 31st of March,
Public organisations must submit theirs by the 4th of April.
This information will be tallied and analysed, and a report of the gender pay gap across the UK will be produced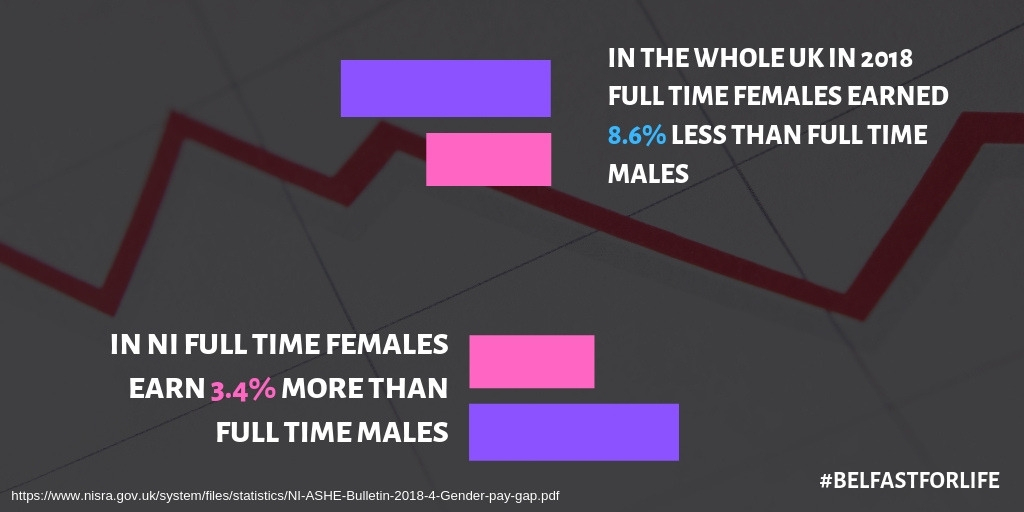 What about Northern Ireland?
Northern Ireland is exempt from this submission as it has no executive to put it into place. It is expected that if and when the executive is back in place they will put this reporting into action. Equality Commission for Northern Ireland 
Northern Ireland's pay gap is calculated as part of the Northern Ireland Annual Survey of Hours and Earnings. In 2018 it found that Northern Ireland is the only region of the UK where the gender pay gap is reported in favour of women.
On average, women working full time in Northern Ireland earn more than full time men.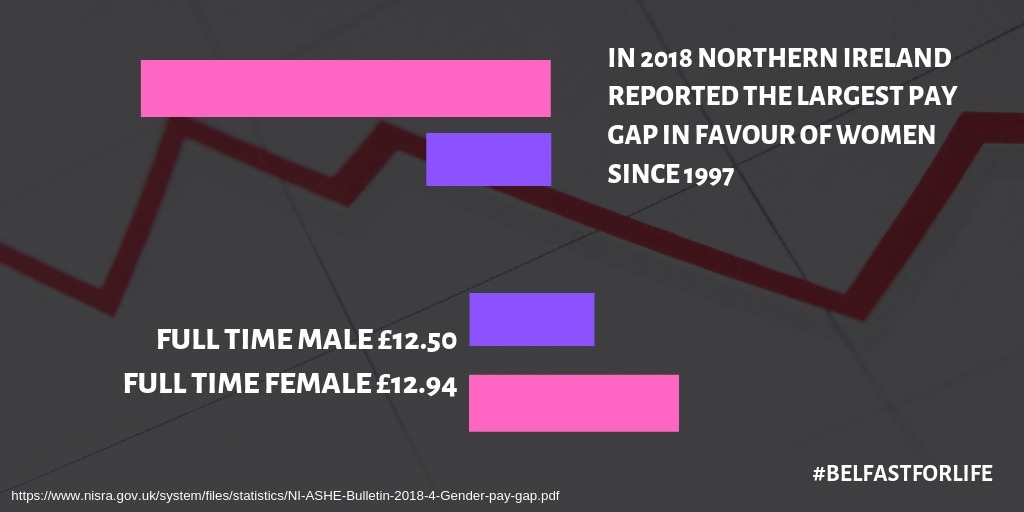 Facts from NI gender pay gap reporting
There are more women (39%) working in the top two earning occupations groups in NI than men (30%)
Public sector employees earn more on average than private sector workers
More women are employed in the public sector than men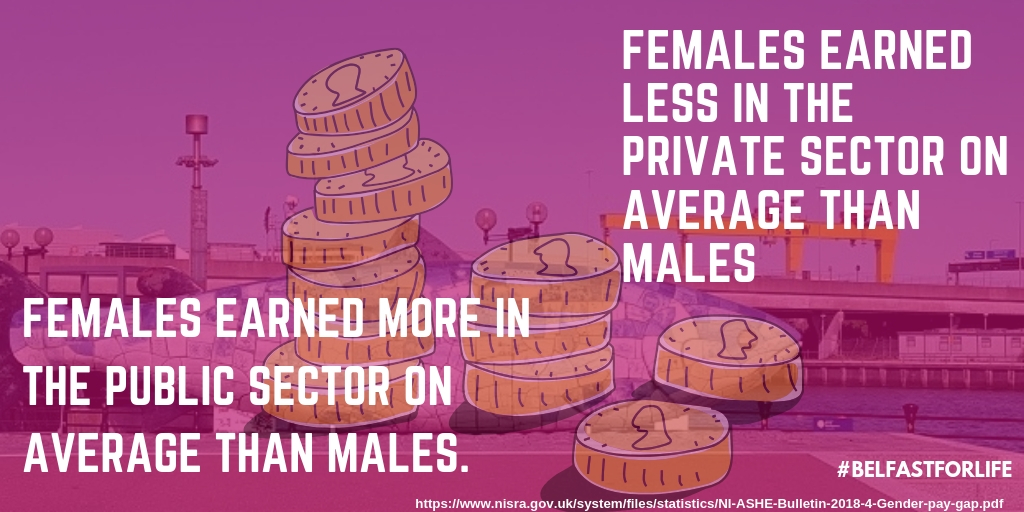 Complications in the measurement…
Despite full-time women and part-time women making more than their male counterparts respectively, overall men make more money hourly than women in NI. This is due to how the pay gap is calculated
More men than women are in full-time work – full-time work tends to pay better than part-time work – therefore the average for women is pulled down overall by the higher proportion of women in jobs with lower wages. This is known as the 'part-time effect' and is explained by this animation from NISRA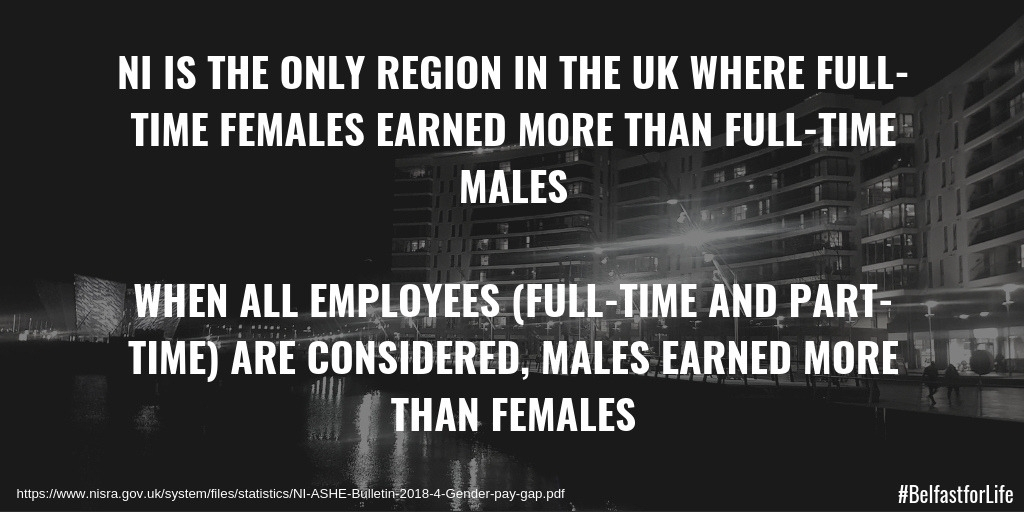 Thinking about coming home to Northern Ireland for good? We can help, register your interest and let us know what information you need to make the decision to come back to Belfast, for Life!
Register Your Belfast For Life Interest
14:54 04/04/2019